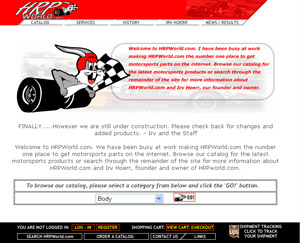 Posted (10/26/2003) - After over a year of development the HRPWorld.com site has now gone live. HRPWorld.com, one of the leading suppliers of racing supplies and parts, has developed the site to allow racers a place to easily shop for their parts anytime of the day.

"When we started HRPWorld (Hoerr Racing Products World) it was to allow the racers a one stop shop to get everything they need at a reasonable price," commented Irv Hoerr, founder and owner of HRPWorld.com and Six Time sportscar Champion. "The website is the next evolution to allow the racer to shop quicker and at their convenience."

"There was a lot of work that went into this to make sure that it allowed the users the opportunity to easily find parts in our catalog," said Jason Mitchell, Vice President of HRPWorld.com. "We have thousands of products which we offer for sale in our catalog and when you put that many things on the internet, it can be difficult to find what you are looking for. We feel the navigation and search functions of this site will allow the users to quickly find exactly what they are looking for so they can get back to the race cars."

The site can be viewed at:
http://www.hrpworld.com/

Beyond being able to securely purchase ANY product from the HRPWorld catalog, the site contains these additional features:
** Track past orders
** One Click UPS Shipment Information
** News from HRPWorld.com
** All results from Trans Am, Grand Am, Grand Am Cup, World Challenge, and ALMS
** History on the company and Irv Hoerr
** Links to relevant websites
** The ability to Order a Catalog

If you have any comments about the website, please feel free to send them an email: info@hrpworld.com.