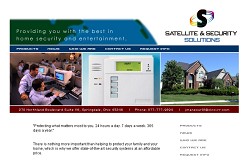 Posted (11/19/2004) - Springdale, Ohio - Satellite and Security Solutions, a home security and entertainment provider out of Cincinnati, has recently gone online with their new website. The site features products and information on items relating to home security and entertainment.

Owner Joe Mansour was very pleased with the look of the site but more importantly the service he received.

"This was not the only time I have set up a web site, but was the first time I have had this level of first-class customer service. Kelly, my representative was not only extremely knowledge and but also very easy to talk and accessible. She was able to explain this in a simple manner which made not only the creation of the website feasible, but also an incredibly enjoyable experience. Kelly's work with me and my firm is beyond doubt the best I have seen in her industry and only reflective of Phoenix Promotions," states Mansour.
.
Phoenix Promotions, Inc is a full service promotions company that specializes in website design. They have found a niche in motorsports but are working to expand their client base to companies that are looking to have a professional looking website that is easy to update and extremely affordable.

Wayne Nonnamaker of Phoenix Promotions realizes the importance of a web presence for companies like Mansour's.

"The need for internet presence is gradually being recognized particularly by small and medium sized companies. It creates a large and functional accessibility for clients and potential clients and if used properly is an excellent marketing tool," concludes Nonnamaker.

For more information on Phoenix Promotions, Inc. services and products log onto www.PhoenixPromotions.com or send an email to Kelly@PhoenixPromotions.com.