Fan Cards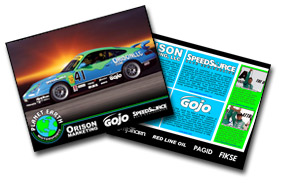 Besides our fan cards being reasonably priced, they are also full color on both sides.

Perhaps the greatest advantage of our full color postcard is our capability to print both sides of the postcard in full color for no additional charge. This allows you to create a postcard that is visually striking on both sides.

The card will be printed on 100lb gloss cover (c2s).


5,000

10,000

15,000

20,000

2.12" x 5.5"

$275

$375

$475

$545

2.75" x 4.25"

$275

$375

$475

$545

4.25" x 5.5"

$375

$545

$740

$950

3.5" x 8.5"

$465

$760

$950

$1,210

5.5" x 8.5"

$545

$950

$1,400

$1,695

4.25" x 11"

$545

$950

$1,400

$1,695

6" x 11"

$745

$1,295

$1,750

$2,205

8.5" x 11"

$950

$1,695

$2,280

$2,850

Purchase Here

(All prices quoted in U.S. Currency. Shipping charges are not included and will be billed at cost.)