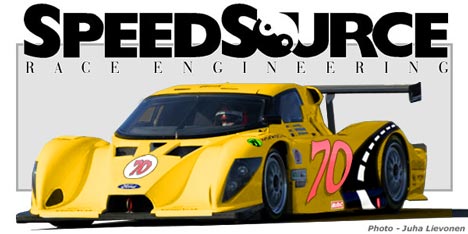 Posted (06/30/2003) - Sylvain Tremblay, owner of SpeedSource Race Engineering of Sunrise, Florida, announced today that his team is making a transition to the Daytona Prototypes class of the Rolex Sports Car Series. "My two top team owners in the Grand-Am Cup, Paul Mears and Selby Wellman, will be leaving the Cup Series after this weekend's races in Ohio to move up to the Rolex Sports Car Series."

Mears and Wellman have ordered two new Ford Focus Daytona Prototype cars from the Toronto-based manufacturer Multimatic. "Both Selby and I tested this year's Daytona winner at Mosport Raceway on Tuesday of this week and that was all it took for us to place our orders on the spot," Mears said. "The car was just great!"

"Paul and I had hoped to have the two cars to finish this season," Wellman noted. "But, Multimatic cannot supply the two cars until after the Rolex Series ends in November."

However, Mears and Wellman have had discussions with Larry Holt, Vice President of Multimatic, about having the Daytona-winning test car available to SpeedSource for the last four races of this year. "We want to run the car this year so Paul and I can get used to driving it and the SpeedSource team can familiarize themselves with running the new car," Wellman added.

"We couldn't be happier with two cars going to such a professional team as SpeedSource with whom we've had a very successful seven-year relationship," Holt remarked.