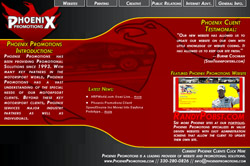 Posted (01/14/2004) - Phoenix Promotions debuted its new website today. The new site is a drastic improvement over the old site with more information available to clients.

"We have been so busy with client work that it has been tough to find time to manage our own site," commented Wayne Nonnamaker. "We have hired on some great new talent to help expand that new infusion of in house talent has allowed us to re-design our own site."

The new site is a drastically expanded version of the previous version. With information available to clients about printing, creative artwork, and public relations the site is able to expand the services Phoenix offers to the public.

In addition clients can now order services on line through a secure ordering interface.

Watch the site in the coming year as more functions are added and the client list of the site continues to expand.